LillyChiu, a Member of Profiting Me, has earned the important reward of $3096.68 selling CADJPY. This is a great profit for just one trade and it is an amazing result.
Congratulations LillyChiu.
When I launched Profiting Me, November 11, 2015, I didn't expect to get an immediate feedback and interest by the people invited to the first Introductory Webinar.
Instead, after the official launch, Profiting Me collected immediately its first members and the First Student was LillyChiu, joined as Challenge Member.
Later other members joined to learn how I earn money by Trading, just after the watching of my First Introductory Webinar, choosing Master Class and Challenge Subscription Plans offered.
LillyChiu is a Dedicated Student
LillyChiu reads my Lesson, watches the Webinars and Video Lessons and reads their Insights, makes Questions and does everything is possible to acquire each element that I give, lesson by lesson, webinar by webinar.
Believe me guys when I say that study constantly is not easy, attending every week the new webinars and watching the new video lessons. It requires commitment and dedication. I did it for years studying with my mentors and it was a hard work.
Learning is a process that never finish, especially for a trader. I continue to study time by time to improve myself.
LillyChiu is a Dedicated Student of Profiting Me that really want to improve.
I am very happy of the Effort and the Commitment of LillyChiu and the results are visible in the Trading Practice.
Realized Profit of $3096.68 Selling CADJPY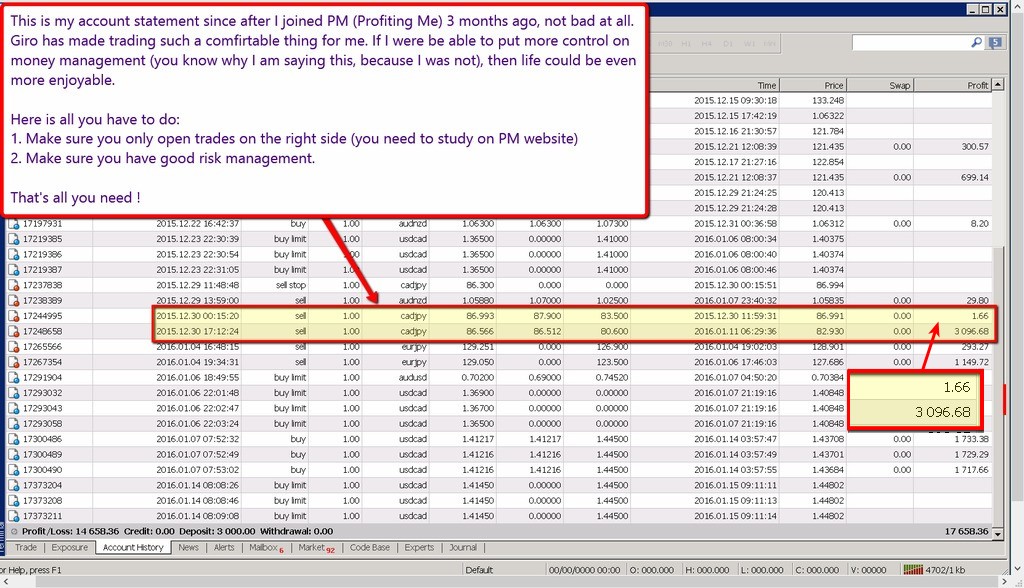 LillyChiu sold CADJPY days ago, just December 30, 2015 and the most important trade closed just Jan,11 2016 gave an impressive reward: $3096.68.
It was a profit earned by one trade only. Definitely the most people only dream to realize a profit like it.
This result required patience and a specific trading plan, since the decision to enter in the market until the moment to take the profit.
LillyChiu explains in this chart the reasons of the trade: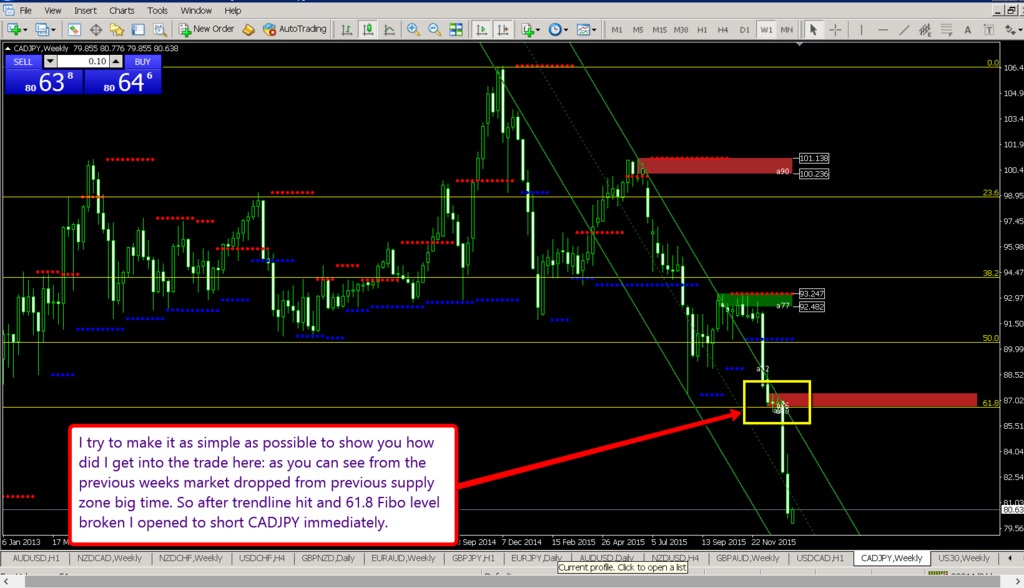 ---
LillyChiu, I am really Proud of you.
I would many dedicated students like you.
---
Profiting Me to Learn Supply and Demand Trading
Profiting Me is an open project for everybody who wants to learn and improve his Trading Practice. It makes you learn Trading by the Repetition of the Supply and Demand Trading Rules applied to the Current Market.
This is not a game. Trading is a job and it requires time, struggle, frustration and dedication. There is no shortcut in Trading.
I show to the members how I make my profits, I explain everything I do and why I do it.
I removed from the trading practice everything introduced to make Trading complicated: abbreviations and schemes, definitions, indicators and other things that make the mind of the trader studded with doubts.
The Simplicity in Trading is what I inherited from my mentors and it is my Legacy to the young traders which study on Profiting Me.

I earn because my trading is simple.
The 2016 has begun very well for me and I closed the Third Trading Week of 2016 with my highest Profit in Total Equity of the new year (until now). Of course, prices will bounce back next week. Taking care of the exit points and being adaptive with the market changes, things will go very well.
My Forex Portfolio, Friday Jan 22, 2016 after the Market Closing: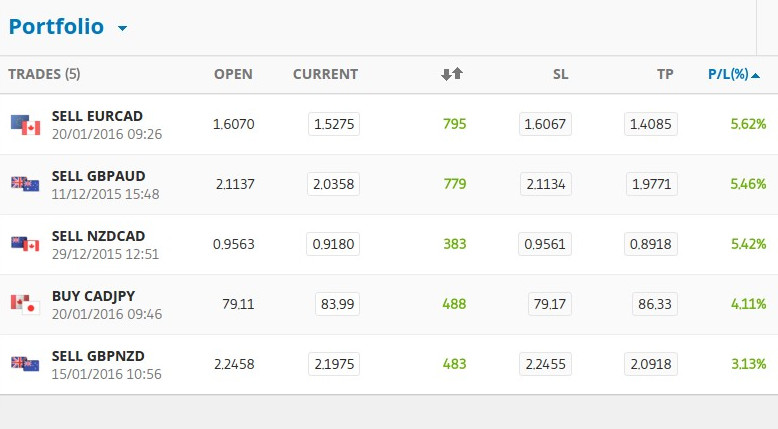 Everybody makes trading in a different way.
Profiting Me Members don't have to make trading like me. They have to take all they can from my trading experiences and use it to improve their own Trading Style.
Feel Free to ask any question about Profiting Me.
I invite you to watch my Latest Introductory Webinar.