About Girolamo Aloe
---
Trader and Investor
My name is Girolamo Aloe, I am a Supply and Demand Trader and Investor. Author. Cyclist.
Founder of > Profiting.Me.
Forex Trading, Social Investing, Strategies, and Management define my life.
I love Trading and Investments, Technologies, Business Relations, and so on Negotiation and Strategies for New Business Opportunities.
Forex Trading
I started to work for a famous Israeli Broker in 2012. So, I decided definitely that Trading had to become my business. I dedicate for this the most part of my time in learning, practicing, losing and making money, trading Forex and Stocks.
Forex Trading is cheaper and easier. It is really useful to learn Rotation Frameworks and to understand how to use them. But the most important lesson is the Patience.
Mentors and Teachings
My trading experience improved drastically when I realized that I needed a Mentor.
I started to follow Timothy Sykes, as Penny Stocks Trader joining to the Tim Challenge. This changed my way to see the day trading and the right way to approach to Trading.
Having the right mindset Supply Demand and Wyckoff Trading were the best way to trade everything, getting consistent rewards.
"For each target to reach, the first enemy is the fear, although it is not real." ~ Girolamo Aloe
"The first step to reach your targets is be ready and determinate." ~ Girolamo Aloe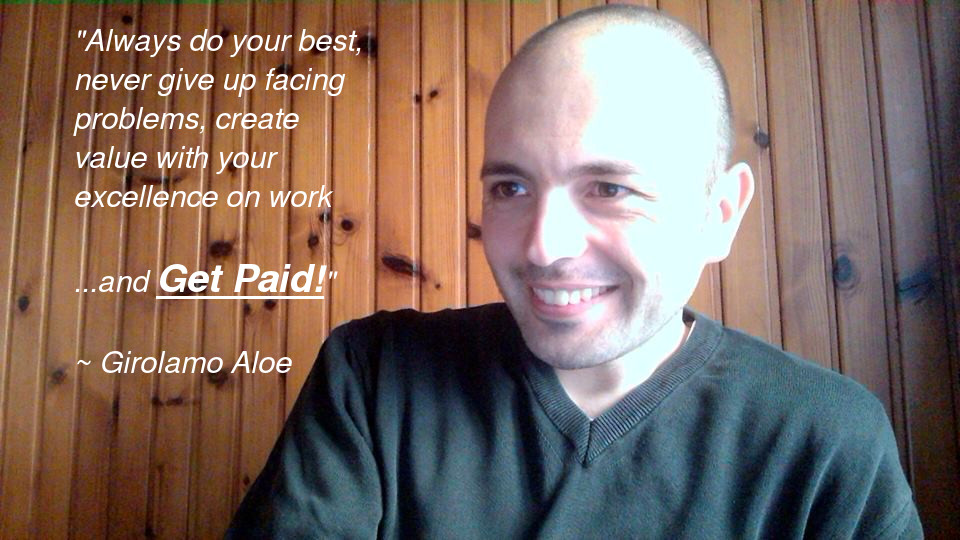 Who I am
I am a man who Never Gives Up.
I realized all my dreams and I have set new goals to reach.
My Challenge is to be a Good Trader and Investor. I share my Trading Experience.
The strongest motivation that makes me work so much hard, is my family, the children that will come and the happiness of people around me.
I dedicate my Life and the Pursuing of Happiness to my Loved Asmaa. She makes my life rich and worthy to live it.
"Foresight and thinking on a large-scale let you to identify the important points to reach each goal." ~ Girolamo Aloe
"Mistakes are the best things that happen, as long as you do not fall into the repetition of the same ones. And they are never free." ~ Girolamo Aloe
Wealth and Hard Work
I had an amazing Career and I have earned so much money.
But I have also faced the bankruptcy and the necessary hard work and struggle to recover:
"Be more determinate of your problems." ~ Billy Cox
My life experiences let me confirm the said: "there is no nobility in poverty".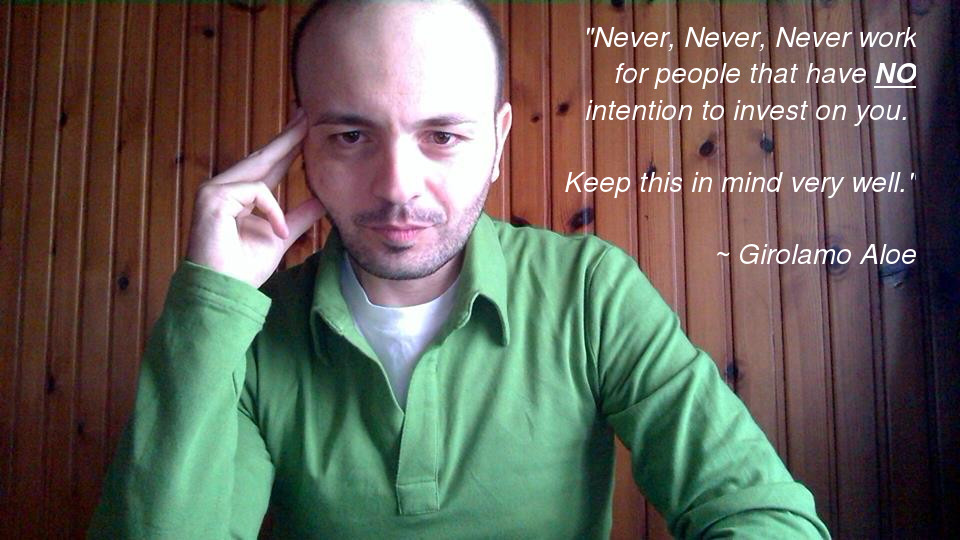 "Your dreams make you unique. But It is just your determination to pursue them that make the difference." ~ Girolamo Aloe
"If you let yourself break down and overwhelmed when things go wrong, your first failure is with yourself." ~ Girolamo Aloe
Career Qualities
My force point was just being able to find solutions for the Business Growth and to make the Management issues Faster, Better Structured, able to Operate Preemptively and more Productive.
Focus, Skills, and Specialization in Startup Investments, Finance, Strategic Management and Influencing.
Improving
Improve myself is a Must and in the same way, I improve the management processes that involve me.
I have a strong background in Business Management and Organization, Information Technology, Digital Market and Financial Markets.
Healthy Life Style
Cycling is my favorite sport and I practice it for the most of the year, climbing hills and mountains, trying to go over my limits setting ever more ambitious goals.
Cycling and Healthy Low-Carb Food have improved my life consistently, reducing my fat percentage and keeping my body ready and in health.
---
Career | My Best Experiences