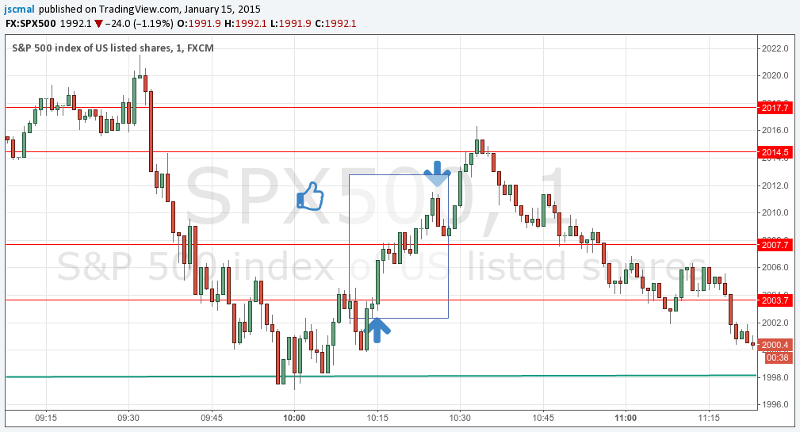 The entry point is the most important part of a trade. It defines if the trade triggered will be a great success or if it will lose money. Nailing the best trade is not easy, it requires experience and a hard work made in advance.
This part of trading is something that really can distinguish a great trader from a newbie. Because an experienced trader is able to avoid bad entries or at least to avoid the most bad entries and stay focused only on the best opportunities. As we know, the most important quality of a Great Trader is just the Patience:
Have the patience to wait that the trade comes to you. Don't force a trade.
I opened just a couple of trades today and I was able to nail a great trade. I entered on $SPX500 with a plan and I got a +47.5% of profits on the amount of money invested on the trade.
#SPX500 +47.5%.Perfect entry,from 2005.15 to 2010.85. My TP was at ~2014,I closed before the retracing $STUDY #forex pic.twitter.com/yrhFj4Z424

— Girolamo Aloe (@girolamoaloe) January 15, 2015
Yes, I know that some of you are thinking that I have closed too soon. I think that you are right. But I got the best entry point and I closed taking profit on the top, $0.25 under the top, and just anticipating the retracing back. Probably I was lucky with the exit point. But anyway I got a good profit.
The plan was to take the profit around 2014 with entry point at ~2005. But the anticipated exit point was in any case really good, considering that the retracing back was deep.
Anyway, after the retracing the price move over 2014 and this means that my plan was really good.
Make money becomes easy when you acquire the right experience to avoid bad entries and the patience to wait the best trades.
They are just qualities that a trader makes own with time and hard work. If he is not able to do it, he will lose money repeatedly and his percentage of profitable trades will be lower of the ones closed in red.