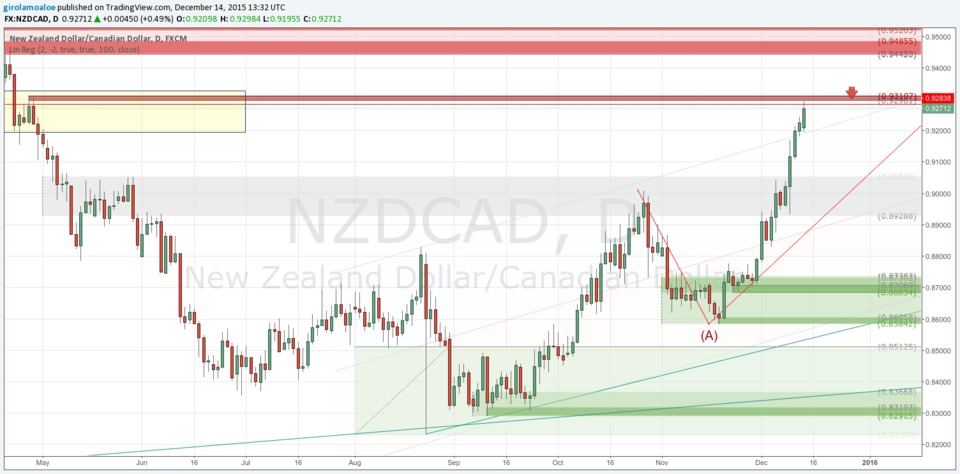 The Trading Precision by Supply and Demand Level is Amazing. NZDCAD has converged with a strong momentum to a Supply Level, a risky Supply Level. In that level the sell orders pushed down the price for a moment.
When you refine the levels properly, you get entry points with an impressive precision. In this way, there is the possibility to take the trade with a very low risk. In the same way, there is also the possibility to miss a good opportunity by a discrepancy between the last price before the reversal and the order price of just a few pips, like 2 or 5 pips.
Trading Precision on NZDCAD
Today I recorded a short Hangout On Air to talk about the NZDCAD. My focus was on a risky opportunity to see if the end of the convergence could be to the Supply Level, in the same price level of the Heads of the previous two Large Swings.
The important thing is how Supply and Demand Trading can give trading opportunities with high trading precision. The simplicity is the key of the Success in the Trading Business.
I am a Supply and Demand Trader. I love make trading, basing my trade on the unbalancing between the Supply and Demand willing. The losses happen. It is necessary to accept them and go forward. I understand the power of Supply and Demand Trading and I am able to get good trading opportunities that make grow my account over the losses.
My Dedicated Effort is for the Premium members of Profiting Me. I give to them all the Acknowledge and Experience that I have in the Trading Business. My Lessons, Video Lessons and Webinars and so on my work to realize my first Supply and Demand Trading Course and any extras are my dedicated work for the Challenge Members of Profiting Me.
I created Profiting Me, for who has a goal to reach in life don't give up to reach it, because I want Dedicated Students.
Only people with a purpose and that really want to reach a personal Goal, will have the strength and the willpower to succeed.
"Money comes to people who Never Gives Up" ~ Girolamo Aloe