Today I start something new. I introduce the Podcast Experience as a new free service to share with you my projects, my ideas, life moments and so on to inspire you to make something great and to make it for the right reason.
This is the Podcast:
Five Minutes with The Social Investor – Episode #1
Be sure to fight for the right reason
---
---
My name is Girolamo Aloe, an Italian man who has a great vision for his life.
When I started my career I was nothing, I had nothing and a moment was necessary to understand how to live in this world, how things work and how people can be bad and dangerous.
In a few months I have become aware of what I had to do and in a few years I have seen the wealth and I became a founder and a CEO, by pursuing and reaching all my first goals. Every goal that I had set in that part of my life was reached.
It was just the beginning. It was simply a taste of what Success, Money and Good Business Relations were for me, just pursuing my personal goals.
I was still young and I believed that my life was going in the right direction.
Instead, it was not the right direction, because I was building nothing, in reality.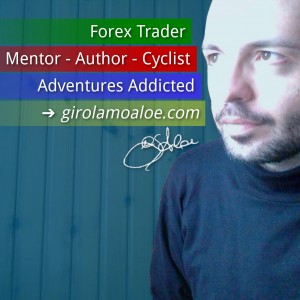 I was alone. No real friends, no real love, no family, nothing to fight for, nothing that has a real value for my life and for the person that I was becoming.
I lived a life of greatness, but without laying a solid foundation. This is a very bad mistake.
Money comes and goes, we know it. Some times we can be reach, other times the risk to experience the poverty can become a concrete reality.
Money cannot be the real purpose of our life. Money are a means to make something else, to make anything else.
What you really have to do is to find something, a personal project to realize for yourself and for people who you love. Put all your effort to make this project real and you will see that money will come.
Money are always a consequence of what you do.
I don't want to lie you: reach something is not easy. 
Nothing that has a real value in this life is easy.
You can see around people who share their expensive travel experiences, amazing super cars, impressive real estate and so on.
Don't let yourself be attracted by these things. Don't be the slave of these futility.
The key of your future is you. Just you!
For example. Learn the lesson from Warren Buffett. He has billions of dollars, he is one the most famous man in the world and he lives in the same small house with three rooms that he bought 50 years ago in Omaha when he got married. The house does not have a wall or a fence protection.
When you make things in the right way, you don't need to lift a face protection.
Find a project that has a real value for yourself and pursue it, protect it and keep it.
If you have to fight, be sure to fight for the right reason.
I repeat you again: Be sure to fight for what is the right reason for yourself and for the people around you and that really love you.
Keep a clear vision in your mind of what you want to realize in this life and every day be one step closer to your goal.
This is what I had to say. This is what I do.
---
► Please, share this post on your Social Media Profiles, giving to others the opportunity to know more about it.