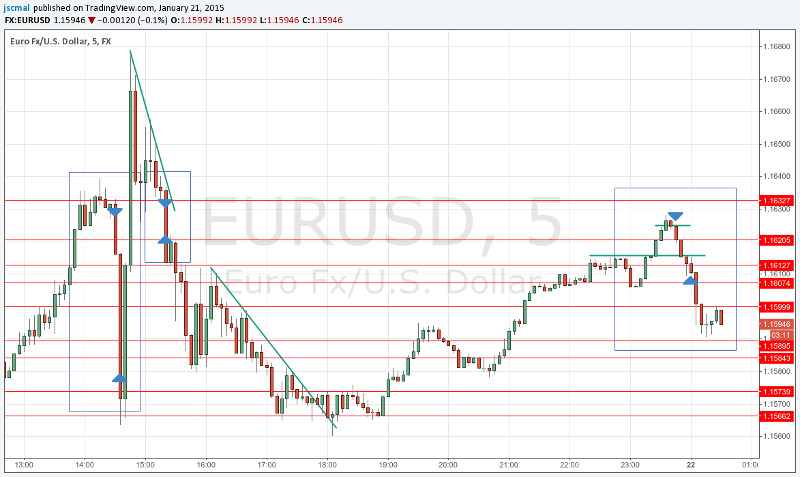 Panic Selling is a profitable situation where stocks, for several reasons, can break a specific magnet or support with a big price moving down.
In Forex the reasons of the Panic Selling are the breaking down of a key level, supported by a specific Catalyst that induce high volatility in the market, moving the price down deeply and quickly.

A Rapid Depreciation of the Currency Exchange.
The Panic Selling is an amazing opportunity to make a large amount of money, to put in the pocket. Easy money for people who are able to trigger the trade in the right moment.
You do not have to think that a Panic Selling can occur only for the big drop of many dollars. You can consider it in any case where the price moving has a changing that is really bigger of its usual. For example if the EURUSD has a drop of 30-50-100-200 pips in a few minutes, when instead the usual price moving is around 7-10 pips in the same duration.
We do not know when a Panic Selling can happen, but we can consider the relative Catalysts that really can induce a huge price volatility.
The highest Forex Catalyst is the USA Non-farm Payrolls (NFP) report released one time per month. It induces high volatility in the USD Dollar and the impact is strong on all the currencies paired with USD.
Panic Selling with Parabolic Pattern. My Best trades of today.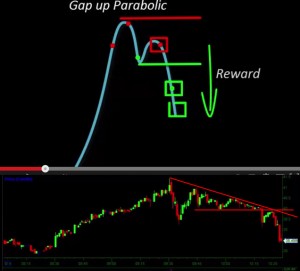 I nailed the Perfect Trade, at the perfect entry point, after the Gap Up Parabolic Pattern on EURUSD. I am very satisfied of this trade because also the exit point was perfect or almost. I love make money following a Parabolic Pattern.
Parabolic Patterns are one of the easiest way to make money. They are a niche of patterns that are easy and really profitable. I can say that a Parabolic Pattern is one of the first things to learn to make money by trading.
Study the Patterns Guys.
In this Perfect Trade I Risked 5 pips getting a Reward of 44 pips in the Panic, just after the Gap Up Parabolic Pattern.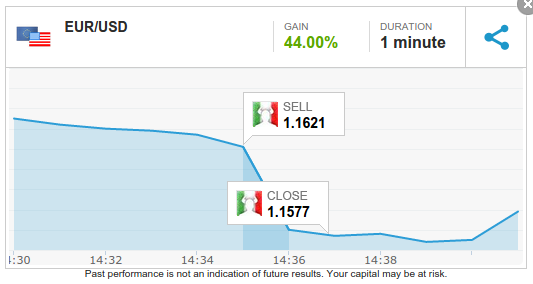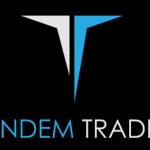 For people who really want to learn how to make trading, but particularly for who wants familiarize and be able to recognize and trade the Patterns properly, I suggest and recommend to invest some money in education. It is just what I did and it was good for me. Education is important in this business. I studied Tandem Trader DVD by Investor Underground.
Find what is good for you, study it, learn well from it, make practice and in this way you can avoid to lose money.
Here another trade on EURUSD, that I closed too soon but that gave me a good 9%. Unfortunately, I did not wait enough to see a drop. The price was in stall around the same level for too much time so I closed the trade to take the profit and prevent a potential higher bounce up.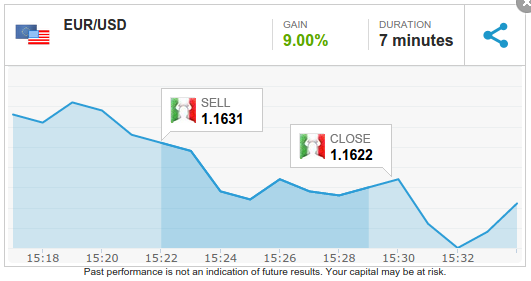 My last trade happened on a Parabolic Pattern and there was a very profitable Panic Selling.
I closed too soon also here, because in the middle of the panic there was a bounce that squeezed my trade a bit (4 pips). Close the trade was good but I have lost the very deep drop momentum after the bounce.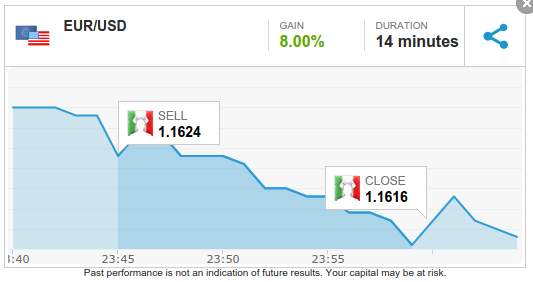 Also if I closed this trade too soon, a profit in the pocket is always a good thing. Do not you think?