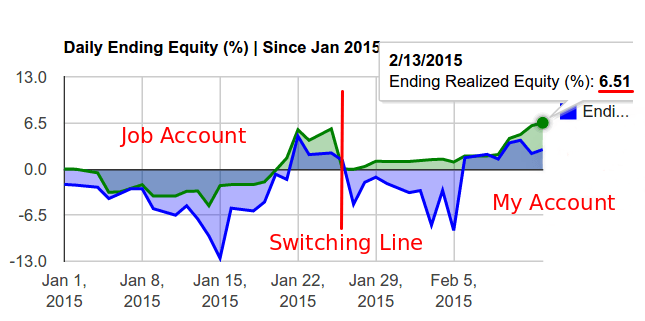 My Trading Account is showing a growth of 6.51% since the beginning of 2015. It is just a little growth, since Jan 26, 2015, to Feb 13, 2015. Switching from my job account just Jan 26, my personal account shows the first signal of improvement and this is great.
I can consider that the growth speed will improve following a parabolic trend. This is possible for 2 main reasons:
The Trading Practice gives the possibility to grow the account in a parabolic way, having rules.
With the Growth of the Copy Trading Realized also the Size of each new Trade Copied Grows.
I have a positive expectation for the end of February and I will have a clearer situation to decide about the next action to take.
Growing Account – Copy Trading

The last week was very good. I got a relative growth of +36.61% in realized equity. It is a good profit for the week.
For the most it is was possible because of the Copy Trading Portfolio. My investment realized +37.34% in the last week.
I am a day trader, then for me is more important trade the momentum. This means just nail a good trade to close quickly and in profit, with the minimum risk.
Instead, the Copy Trading defines my long-term investments. I invest money on an eToro Popular Investor setting a specific Margin Risk. At the moment, my investment in running is still risky, because I have set a Margin Risk to the 40% of the realized. So, to don't burn the amount of money invested is necessary that the realized equity reaches +40-50%.
What about my Manual Trading?
In the last week, I opened just a few trades. My manual trading is showing an improvement. I closed the week with a relative growth of +13.75%, in realized equity by Manual Trading. It is not a big profit, but the improvement is that there was only one trade closed with a loss. Then, the percentage of success was really good.
In the previous week, my manual trading was in a loss, but the things change, fortunately, just by practicing and learning from each mistake.
In my opinion, 3 pips of spread on EURUSD are too many. I would be happy with the spread of 2-1 pips for this currency exchange and as a compromise, I can accept to pay more the overnight fee.
A high number of pips can compromise the risk rewards, particularly considering that I prefer to risk only 5-6 pips. This means that 3 pips of spread put me in the situation to look for a precise entry point for each trade.
Follow the pattern and wait patiently the right level to break.
My last trade of the week
A good trades managed with patience and responsibility, closing it just in the right time.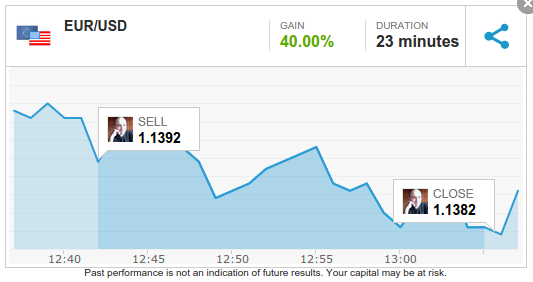 For the new week. I expect more profits.