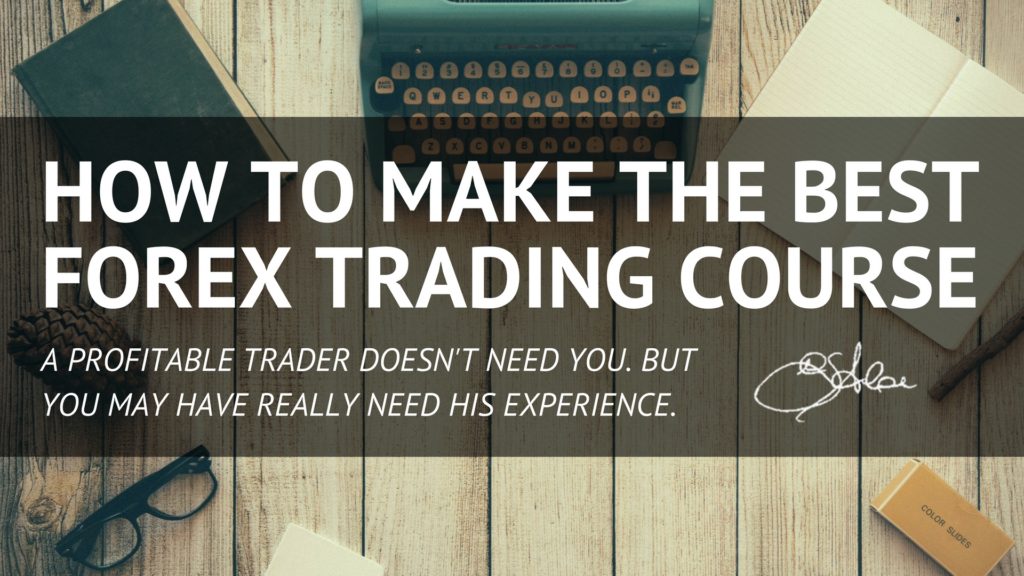 My Supply Demand Forex Trading Course will get an adaptation to become also my next Publication. It will be my Trading Book about my way to practice Supply Demand Trading. It will be also my Third Book that I publish in my life.
My active students know that I am working to realize my Forex Trading Course. They already have the first tests about how my Trading Course could be and the changing that I do. I share with my Challenge Students any new tool and service that I am going to introduce on Profiting.Me.
My Challenge Students are my greatest supporters to understand if I am realizing a Quality Product for their Education. They study and at the same time, they show me what is good and what is not good. So, I apply changes and improvements on Profiting.Me around the needs of my best students. Sometimes I can do it quickly, others time it is necessary to wait also some months.
Study with a Trading Mentor
Why Stock Traders so as Forex Traders should study what a Mentor gives?
The answer is simple. Traders should study what a Good Mentor shares because he is able to earn money by trading constantly and consistently.
After so many years of Trading Experiences, I can say that I am a Trading Mentor. In the Specific, I am a Supply Demand Trading Mentor. I am able to trade patiently reaching thousands of pips of reward with my best Trades.
The first years of my Trading Career were a pure Forex Training. I consider every year of my Career a Training for my Trading Lifestyle, to improve and make better.
This is about me. But what about other mentors?
I don't know about others. So, I can talk only for myself. But this is what I repeat continually:
Without my Multimillionaire Mentors my Trading Career would never be what It is today.
If I am able to close trades with thousands of pips in reward it is for two main reasons:
My Multimillionaire Mentors which made the Trader and the Person I am today.
My Dedication in this business: Trading Practice, Patience, Hard Work and Determination over any loss, for the long-term.
Read also: The Most Powerful and Profitable Forex Strategy
Considerations about any Forex Trading Course
A Forex Training so as a Training for any other Financial Marketplace, should show simplicity and usability.
I have studied many Trading Courses and resources. I can confirm concretely that the most of them are completely usefulness. The most commons give many hours of videos to watch. They can talk about Forex Trading, Penny Stocks Trading, Spread Trading and much more. I have watched courses with 11 hours of video recorded to study. For me, It is a craziness and almost nobody will reach the end of the course.
Some courses can offer also a Discussion Forum. In reality, a Discussion Forum around a course is an interesting resource but it doesn't really work. It shows a concrete limit.
People who want to understand more about Trading look around any kind of not expensive resource. They look for Forex online courses finding a mountain of information. The problem is that the most of them have not idea about what is concretely an Educational Quality Product. In the same way, they have not idea if what they study is teaching the right things to improve.
Read also: How to make better Profits from Forex Trading Strategies
The Making of a Forex Training Education
Following my long Trading Experience, I can confirm that any Forex Trading Course is not enough. Forex Trading or Stocks Trading cannot be a profitable practice by reading a book or watching videos. They are just a first look on specific Trading Topics that need a lot of hard work to do later.
For me, there are two relevant Sections that make up a Forex Training Education: Active Training and Passive Training.
Active Training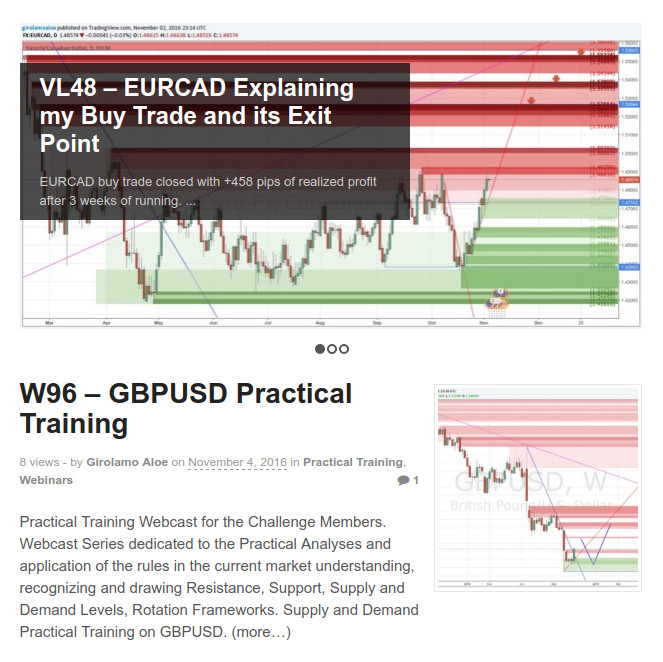 This is the most important resource because it is Pure Mentoring: Direct Mentoring.
The Mentor stays in touch with the students by his community service, messages, emails, educational contents and so on. But particularly, the purpose is to share the knowledge.
The first duty of the Mentor is to share his experience.
To make this in an active way, he shares his Trading Tip and Explanations. He answers to all the questions he receives from his students. So, it is normal that a mentor who takes care of his students is an active supporter and commentator.
He is the Mentor, then he helps.
This is what I do, exactly. I share my Trading Tips continually, every day, many times per day. The looking of trading opportunities is my job, of course. I share what I see in the Current Market and I note it in the Profiting.Me Dynamic Watchlist.
I make also Educational Contents, especially Video Lessons, Webcasts and planned Webinars. This is part of the Active Training because I obsessively record them talking about the Current Market. They are an efficacious way to point the focus on some specific Price Action Details that the Current Market shows. I use them to explain also my Trades and the reasons around them.
I keep my Trading Practice tremendously simply and I make money continually just because this.
This is exactly what I give to my students. This means that the Active Training is something that everybody can understand properly. I want this.
No abbreviations. Absolutely NO indicators. No Catalysts. No Complex Analyses. Absolutely NO Complex and Confused Terminology that people invent around.
My focus is where the money are and where my trades can pay me.
Passive Training

This is where my focus is, at this moment. The working to make the Best Forex Trading Course I can realize today for my students. It is a relevant topic for me. I look for the simplicity and my Trading Course must show exactly my way to make trading. Then, it must show how simple is Supply and Demand Trading in the specific way I use it. There are many ways to practice Supply and Demand Trading. I want to show what I do in every trade that I open and why I do it.
When I talk about Passive Training I refer to every Educational Content that is a Full and Stand Alone Product. Then, I talk about everything in trading to use like a set of guidelines.
This means that my Passive Training has Trading Courses, Content Collections, Guidelines, Info-graphics, Blog Posts, etc.
My Best Forex Trading Course
Considering the Courses and the tedious work to study them, there are some things I want to avoid.
Fist of all, I consider two different groups about Forex Training Education:
Short Courses and Introductory Courses are really good also having only videos.
The full version of a Forex Trading Course so as Stocks Training Course, should not give only videos.
It is necessary to consider how the user will use the information to give. If I want to make a useful Forex Trading Course, I need to organize the information very well. I need to make contents easy to explore by specific topics to search.
To make an Educational Training Product in this way, I have to create textual contents with images and notes. Besides, I can add also some videos.
So my Forex Trading Course so as any Stocks Trading Course need a specific structure. The focus of the structure is in the how to use the information provided.
For the use of the information, a Forex Trading "Handbook style" works really better than a course made using videos.
Training Content Collections
Talking about specific Educational Topics it is a good practice to give also cases to study. Mentors can do this in many ways. My way is to give to the Challenge Students of Profiting.Me a Content Collection divided per Topic.
What I give is a group of Training Collections. Each one collects video lessons, webcasts, webinars and more. Every Training Collection is a specialization to a specific Trading Topic.
I prefer to don't make a large differentiation. I keep just 2 or 3 Training Collections, but inside them is possible to have several subdivisions.
This particular Passive Training is really useful for the Students, especially if the Mentor updates regularly the Training Collections.
Training Collections are useful to deepen the knowledge and the practice of some specific Topics about Trading.

Training Collections are an efficient way to learn how to do something properly.
Wealth, Success, and Resources
Every Newbie Trader uses to search Free Forex online courses. There are many websites that spread free information. When we know nothing, they are like the boat of knowledge that guides us to the success. But sadly, the most of the information that they share are usefulness for the profitability for the account.
We see people and websites which explain and spread around patterns and indicators like a magic resource to succeed. We see also a lot of people who spread around luxury cars and clocks like evidence of success. But they don't prove their profitability.
Time ago, somebody from Malaysia told me that a group of people paid $11.000 each one to learn Trading. The teacher spent his time to tell people what indicators use and how to use them. As he told me, it was definitely a lot of money spent for nothing.
Nobody should never waste his time and money with who shares around Indicators and Trading Signals.
Every time we think about rich people and how to make a fortune, we should ask ourselves:
Why don't rich people look rich?
I am not talking about kings or about who inherited fortunes. I am talking about Self-made Millionaires (or Billionaires) like Steve Jobs, Bill Gates so as Giorgio Armani.
They don't look rich, also if they can use Helicopters or live is Big Manors.
They don't look rich because their focus is on the making of some projects.
Their money fortune is consequences of their work. What they realize is the result of their effort and sacrifices.
They don't look rich because they Don't Need to look so.

They are rich because they are workers.
And they use their fortune in a different way that who instead does everything to look rick.
Read also: The Most Powerful Mindset to make the Best Forex Trading Online
Conclusion
Trading is a business that requires a lot of time and a lot of dedication to become profitable. According to this, follow a Trading Mentor is the best way to become a profitable trader. This is the Holy Grail of Success.
The Truth about Forex Classes and Trading Courses. They NEVER will make you rich.
There is no Forex Trading Course or Stocks Trading Course that can make you the Greatest Trader. So as there is no Forex Class with a beginning and ending that can make you the Best Trader. This is because trading depends on you and not of books and videos that you can study. It needs commitment in the Trading Practice for the long-term. Dedication and Commitment are a MUST for who wants to study on Profiting.Me.
Trading is All about YOU.

Without commitment and dedication for the long-term you will fail with or without Mentors and Courses.
For me, this is very easy to understand. I am a Profitable Trader, but years of sacrifice were necessary to become so. But for many other it is not easy to understand, they want to become rich without commitment. I am sorry for them, but it doesn't work in this way, in trading so as in any other job.
Every Mentor who really gives a strong value in trading and training is expensive.
Every Quality Trading Experience is expensive even before to become a Training Resource.

A Profitable Trader doesn't need you. But you may have really need his experience.

What you get in return is priceless.
I cannot share my time freely. In the same way, I cannot share for free services that have a cost in time and resources.
My Time is the most precious commodity I have.