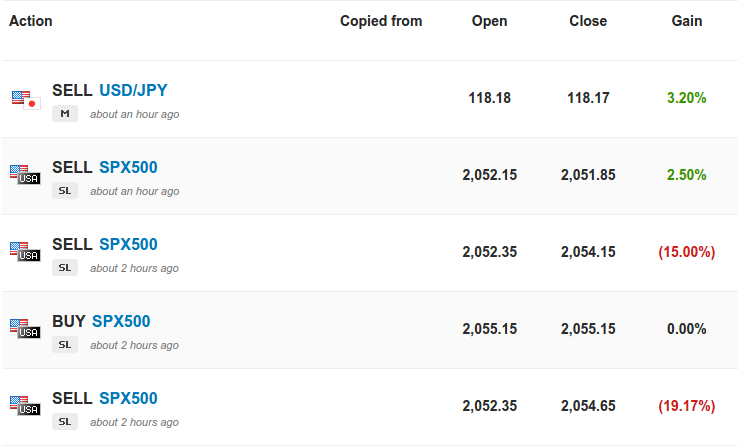 This $SPX500 is risky as always and to beat the wrong trades the key is the patience to wait a real breaking of key levels. Be squeezed is very easy when you don't follow very well the chart.
One trade squeezed is ok, but 2 or 3 before to get the good one that we are waiting bring our day in red. This is just what happened to me today.
The use of the Patterns is fundamental to have a Profitable Trading.
It is definitely important recognize patterns and don't be lazy in this, because if we are a lazy trader, that look only for the breaking of supports and resistances, we lose money. It can be necessary that a recognizable pattern would support a key level before the breaking.
Rule #1: Cut Losses Quickly.
I cut losses quickly, I do it, but this is not enough of course, particularly when you trade $SPX500 that in eToro has 100 pips of spread.
Here my best trades of Today. Yes, I know that they are not so good, but If I consider that today was not a good day, they are ok.
#SPX500 I closed too late,but in profit. Today I was already squeezed 2 times on this index,then not a profitable day pic.twitter.com/5ApBuYEH5l

— Girolamo Aloe (@girolamoaloe) January 13, 2015
I try to set the Stop Loss to ZERO when I can, just to limit the risk to lose money. This is really a good thing. But this become also a thing that can stop your trade prematurely.
The right thing is just to run for Good Trades with a Good Risk Reward.
In the case of $SPX500 the change of $4, $6 and more are really good to take profit. Instead $1 of change is not enough because it has inside just the cost of the spread.
I am making an "absurd" trading. This trade closed in profit on $USDJPY is a confirmation that today I have not mind pic.twitter.com/9rZqC1FqCF

— Girolamo Aloe (@girolamoaloe) January 13, 2015
$USDJPY has the great advantage to have only 2 pips of spread in eToro, this is why I trade it occasionally. But it has also a very choppy chart generally, then this is just the case where the patience is necessary to wait the right pattern before to trigger a trade.