My Trading Experience is still at the beginning. The Copy Trading is definitely helping me a lot to make grow my account.
In this stage of my learning process, I try to imprint very well in my mind the Price Action Patterns and get the best from the Trading Rules, Discipline and Practice. For now, I am not really focused on make a lot of money by manual trading.
My short-term purpose is just Learn and Improve, Rinse and Repeat. This is just one step of the long path to reach my Final Goal.
Copy Trading Advantages
What I see really useful for my trading is just the opportunity to copy profitable traders. Here some Specific Advantages:
A Copy Trading Portfolio can grow my Account consistently.
Realized and Current Equities by Copy Trading, can compensate my trading mistakes and give me a good profit.
Copy Trading gives me time and resources to learn how to make manual trading.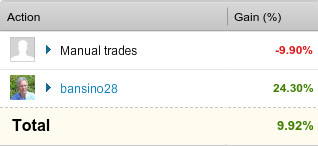 Definitely, the learning process requires a lot of effort, pain and mistakes before to become concretely profitable. It is not easy and a lot of time, dedication and willing power are necessary to improve.
The Copy Trading gives the opportunity to make the learning process more comfortable, by a profitable portfolio of traders that make profits while you try to improve yourself. But it is not so easy as it can seem. Copy Trading is risky, like any other trading practice. The Traders that you add in your portfolio are like funds where you invest.
If you make a wrong investment, you lose money. It is the same in Copy Trading, like in any other investment practice.

Make a Good Risk Evaluation before to Copy a Trader.
Then, it is really necessary:
Be aware of the risk.
Understand what traders are good for you.
Set an appropriate risk margin for each investment.