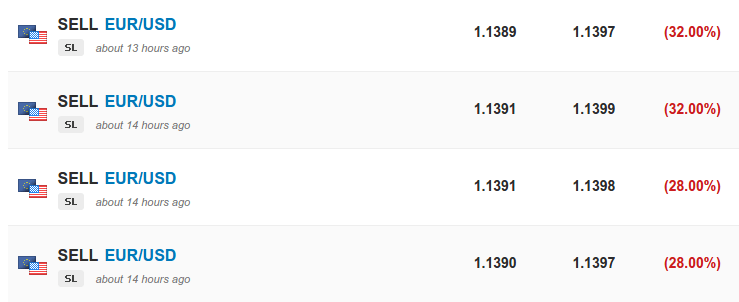 What happens when you want a trade at all costs? The answer is that you chase trades exaggerating the risk to fail, forcing a trade that instead is better don't open in that moment.
When you keep your focus on a specific level, planning a trade on the breaking and you are strongly convinced that it will be in your favor, "can arrive that time where you get a slap for your presumption". But this is not enough to stop you and to show you that your plan was wrong. Your conviction will make you insist in what you have thought as a good thing
This situation can make you victim of yourself, because you will become impatient and you will act emotionally. The result is lose money over the risk planned.
Instead, when the breaking of a specific level has happened and you missed to catch it, the most common mistake is just Chase a Trade in the running.
This Emotional Trading practice to Chase Trades costs a lot of money to newbies, because just when you trigger the trade the chart could be over extended up or down. Then the trade chased can experience the squeezing.
Rule: Don't Chase Trades.
Don't Force a Trade and Don't Chase a Trade are fundamental, but these are things that a trader learns with the experience after many mistakes. But I tell you more. Also experienced traders make the mistake to force a trade.
Don't Chase Trades – Don't Force a Trade.
My personal experience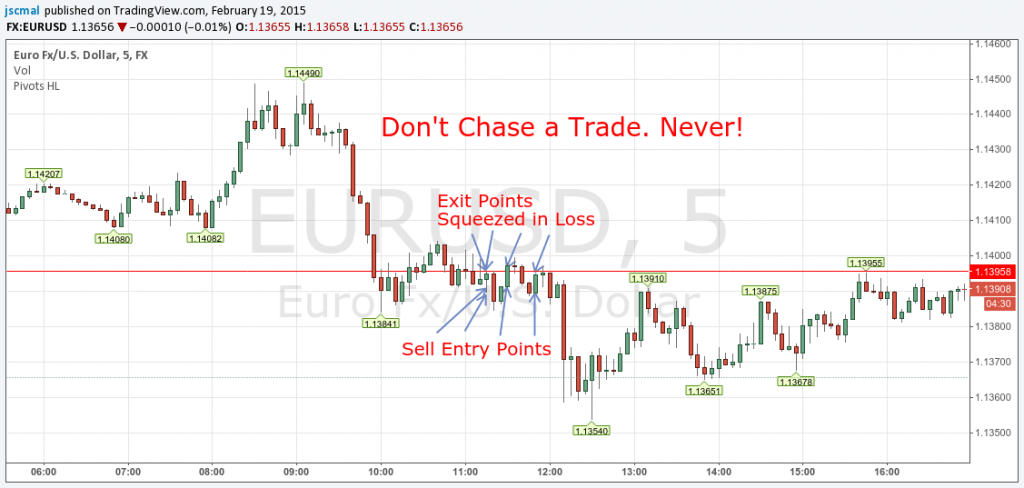 Just today Feb 19, 2015 I waited a potential break even on EURUSD. I convinced about it, and of course it happened later. My mistake was just Force the Sell Trade 4 times in some potential breaking, without instead consider what the chart was really telling me in that moment.
This means that I opened 4 sell trades in the wrong time and with a wrong entry, one by one. Every trade got squeezed each time, making me lose the profit of the week.
They were just 4 trades opened like a trader blinded by the conviction and emotionally forced, that costed me the hard work of the week.
Close the first one trade with a loss is ok. It is the signal that says "Wait and Reconsider". But continue in the practice to chase that trade repetitively in that moment is the mistake.
The week was very good before this moment where I broke my rules forcing trades. This represent the classic case where you lose the direction, don't respect the plan and act wrongly by emotions.
Don't Chase Trades. Never Chase a Trade. Never Force a Trade. Keep this in mind very well if you want to become a profitable trader.
Copy Trading keeps the Account in Profit
What I have lost chasing a trade affected my realized equity only for a small part, because my copy trading portfolio closed several trades with good profits that cover my losses making me close the day with an appreciable profit.
This doesn't mean that my bad trading is not relevant or that the copy trading makes me become a good trader. The important role of the Copy Trading is just that one to Make Grow the Account Consistently and Exponentially.
Instead, my Manual Trading still needs to improve and I am working on it a lot. Considering that I want to become a good and profitable trader, is fundamental for me learn from my mistakes, particularly from these emotional mistakes because the emotions are difficult to manage.