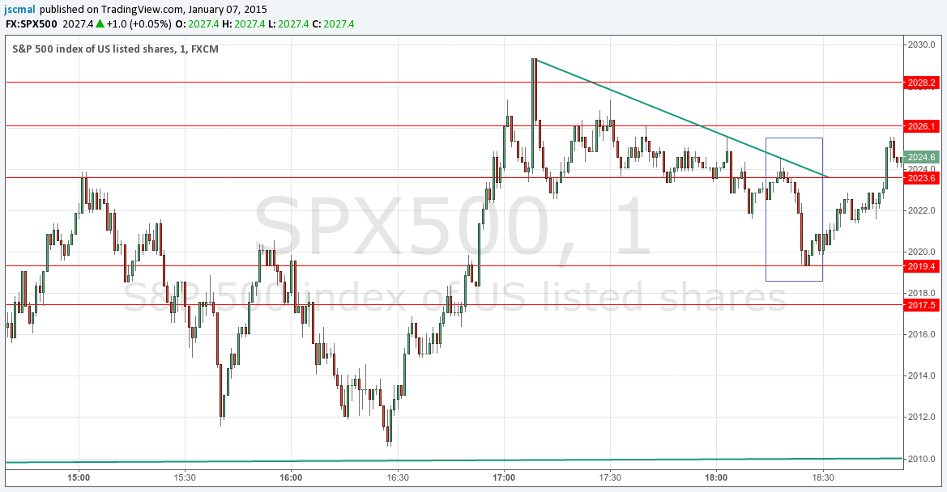 SPX500 showed several good opportunities today to make profits just following clear patterns. I nailed my best trade at 2022.85 and closed at 2020.65, following a clear pattern with break even at 2023.6.
The first trade went in Stop Loss. It broke down the support, then I got the trade and It got squeezed. But it is OK, I entered too soon.
My Mistake in this Parabolic Pattern is that I Anticipated too many times. The other 2 trades closed in loss are mistakes, emotional mistakes that follow the first loss. I entered without consider the pattern, then without follow the Lower Highs and I got squeezed each time.
Best Pattern, my Last trade
#SPX500 this is my best trade of today. Just following a clear Pattern. I learned a great lesson. #Trading is amazing pic.twitter.com/4P3oR6QDIO

— Girolamo Aloe (@girolamoaloe) January 8, 2015
Anyway, this was a Great Pattern, a Great way to take profit, but the Risk/Reward was not so good, considering the key levels and the $1 of spread on eToro. The best trade arrives when the Index starts a trend that it keeps for some days. In this case the Risk/Reward become really good and any trade on SPX500 banks.
Learning the Patterns to become Profitable is a Good Thing.